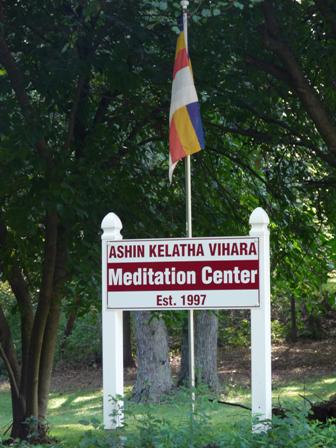 Direction to Ashin Kelatha Vihara/MBMS
9711 Old Court Road,
Windsor Mill, MD 21244
(410) 922-2227

In these days of GPS, we think most of us don't need long driving direction anymore. But, not all of us have GPS unit in every car we drive. So, below are the link to print out driving direction from Google and Mapquest. You will see the sign as shown in this photo at the front of Vihara.
If you are driving from north to south (or northeast to southwest to be precise) on Old Court Road (i.e. coming via Liberty Road MD-26), you will see the sign of "Edrich Lumber Inc." on the right first. The Vihara's entrance is next left after you passed the Edrich Lumber.
If you are driving from south to north (or southwest to northeast) on Old Court Road (i.e. coming via Woodstock Road), Our Vihara is a few blocks on the right at the start of downhill after you passed the Dogwood Road.
Direction via Google Map
Alternately, MapQuest can be used too.